The triad of "Heaven, Earth, and People"
Of all that has happened over the past 30 years, a few events stick out which can rightly be called milestones in the journey to where we are today. The journey through these milestones is now part of the story of our past and the achievements they represent might be easily taken for granted, but at the outset they were enormous, ambitious goals that seemed impossibly far away. We achieved these goals not only through an untiring will to succeed, but also through the triad of "ten, chi, jin," which is a very old concept that translates directly to "Heaven, Earth, and People." Recently the concept has regained some popularity and in more modern terms it might be called "Fortune, Circumstances, and Employees." It means that our success arose from the opportunities provided by heaven, advantages provided by the terrain or business landscape, and a harmony among our people.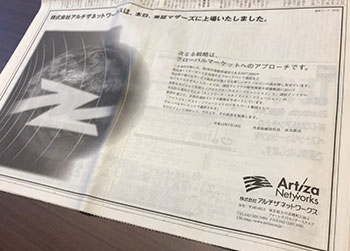 The first such milestone was our initial public offering in 2001. Because the company's business, which could be considered its responsibility to society, was "to ensure the quality and stability of telecommunications infrastructure," I was deeply troubled by the ups and downs that the business was going through. To help smooth out the financial peaks and valleys, we decided that Artiza should be managed as a public company, and we made it our goal to get listed on the Tokyo Stock Exchange. From the day we decided to go public until the day of our listing, it was an uphill battle all the way, and there were moments I thought it was impossible. But with the support of the entire company and all of our stakeholders, we made that dream a reality. Today, with over 5,000 shareholders, Artiza Networks is able to maintain its listing on the second section of the Tokyo Stock Exchange.
Artiza crossed another milestone after almost 20 years of being in business when we successfully transitioned into the field of wireless technology. For Artiza, which was founded on the protocols and technology of wired communications, the transition to wireless was truly a leap of faith. We were bewildered by the new technology and its terminology, but eventually the project members persevered through countless cycles of trial and error. Overcoming this hurdle led us to the core of our current business: our always-evolving line of wireless base station testing products. Now, a decade after that sleepless gauntlet of our first wireless project, Artiza has transformed itself from a company working solely on wireline technologies to a leader in the world of wireless technologies. Today, tier-1 base station vendors around the world rely on Artiza's products to keep their operations running around the clock.
A corporation's culture and structure are the dual engines that drive its growth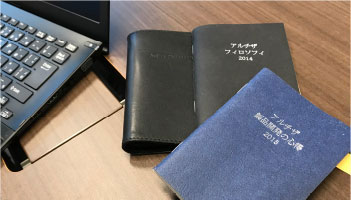 The last milestone in Artiza's development these past 30 years came when we established new systems for fostering a stronger corporate culture and corporate structure. For a long time, I had contemplated what Artiza needed to become a company that could thrive far beyond my own tenure, and allow young employees to work toward a future where their dreams were realized. In 2009, we adopted "The Artiza Philosophy." It outlines the company's vision for what type of conduct will lead our employees to personal and collective success. We produced and distributed booklets, and began reading from them aloud daily at morning meetings and company events. That practice continues even today. Next, in 2014, we transitioned the entire company to a system of "amoeba management," which aims to foster the management capabilities of as many employees as possible, and put everyone on a path to consistent professional development. We are constantly reviewing and improving this system. The Artiza Philosophy and amoeba management, which define the culture and the structure of the company respectively, have become the two primary engines driving Artiza's success.